The Best Tile Cleaning Service in Boston & The North Shore.
Ceramic tile and nice clean grout can be the most beautiful flooring surface you have in your home. Unfortunately, because of the special care it requires and the difficulty of doing it on your own, it can become overlooked and problematic very quickly. Nobody in their right mind wants to get on their hands and knees and scrub grout lines by hand. It's a lot of work and definitely is no fun at all. Tile & Grout Cleaning
The good news is that Duraclean Master Cleaners can make short work of this task. Whether your tile is in your kitchen, bathroom, or some other area of your home, those stubborn stains, dark areas, bacteria, and germs will not stand a chance with our thorough cleaning process. Your tile and grout will often look very much as it did the day it was installed.
We are dedicated to helping you keep your home healthy, clean, and always looking its best. The solution to difficult ceramic tile and grout cleaning is really just a phone call away. We'll be happy to demonstrate it for you also!
Duraclean's Ceramic Tile & Grout Cleaning Process
Pre-Inspection and Preparation
Our technicians will inspect the areas requiring cleaning, take note of each floor's special needs, and communicate a sensable cleaning procedure that is fast, thorough, and most of all – very safe for you and your family. After moving the necessary amount of furniture, we sweep or vacuum the flooring, removing sand and small particulate soils to get it ready for our stone floor cleaning agents.
Cleaning Process
We apply an effective cleaning product to your flooring very hot, and allow it to remain there for up to fifteen minutes. Very stubborn areas are agitated manually with a special brush or even a rotary scrubbing machine. After the product's dwell time on your floor, we use our truck mounted cleaning equipment to deploy a state-of-the-art high-pressure tile cleaning tool. This tool blasts away years of dirt and grime. This is very safe and restores the natural beauty that your stone flooring once had.
Duraclean's Tile and grout cleaning is fast, very effective, and reasonably priced. It can restore the beauty of your floors in no time. The process is very thorough and safe for you and your loved ones. When we are done, your floor is ready to use in less than 30 minutes. It will be no wetter than if you just washed it yourself with a mop.
Don't Just Take Our Word for It – Ask us for a Free Demonstration!
When you speak with one of our representatives, ask us for a no-obligation demonstration of our tile cleaning process. We can clean a small section for you while we are already in your home, or when we pass by your neighborhood. You will be thrilled with the results we can achieve.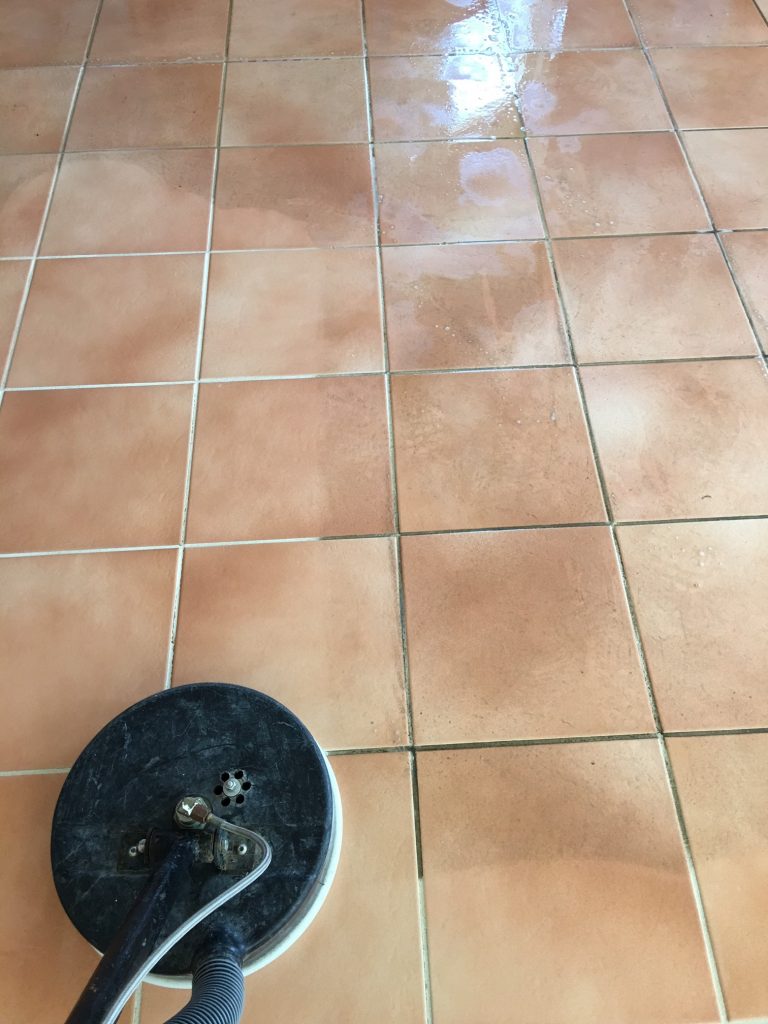 Tile Cleaning- Before & After