Repairs on carpet are needed from time to time to correct mishaps like burn holes, failed carpet seams, or loose installations. Some of these can even be safety hazards. Problems like loosened seams and rippled carpets can worsen over time and render your carpet unrepairable. Why not have them fixed? Duraclean can do it.
Burn Holes?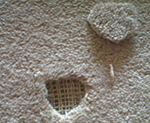 Burn Repair.  These are customarily repaired with a new section of carpet chosen from an inconspicuous area like a closet or under a stationary piece of furniture. The burned section is cut out of your carpet and the new piece is correctly inserted and properly adhered.
Loose Carpet? Maybe it Needs to be Stretched Again…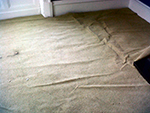 Carpet Restretching.  Carpets that become rippled over time – especially in humid weather or after cleaning – are indicative of an original installation problem. Sometimes when carpet is installed, it may not have been stretched in properly. If this is the case, it may not immediately show up. Carpets installed over a pad and tackstrip need to be physically stretched for a snug fit. When humid weather comes along over time, the carpet loosens. Duraclean can disengage and reinstall the carpet so it is properly tightened. This can produce a whole new look for your home now that the ripples will be gone.
Carpet Coming Apart at the Seams?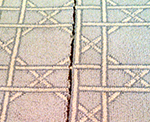 Carpet Seam Repair.  Seam repair is a common task when seams of carpet adhesive fails. Occasionally when there is a seam positioned along a common traffic area, there can be too much flex along the seam edges. Duraclean can repair this by removing old seam adhesive tape, and fitting the seams together again. The result is a newly constructed seam. No more chance of the carpet becoming tattered and worse along the seam edge.